---
On this page you can view images and descriptions of the equipment I use to explore beneath the waves. As I travel, I need assistance from volunteers all over the state.
---
Motor
I use a 140hp Evenrude outboard motor on my expeditions. It has a 60amp alternator (installed in 2009). It is a one of a kind motor with two charging systems.
---
Alternator
Here you can see an inside view of the Evenrude with alternator. The alternator turns up to 15,000 RPMs.
---
Monitor/VCR Banks
Visible are these 6 video monitors used to view 2 sets of tri head camera's at once, there is also a VCR recorder attached to each one which is ready to start recording at a moments notice.
---
12 Volt Auxillary Power Unit
Runs intermittently to maintain boat power at peak output. Unit burns a quart of fuel for evey 8 hours of searching. Also is used to charge DPV batteries and jump start other boaters dead batteries.
---
Dash and Navigation Equipment
I run three different global positioning systems. The hummingbird unit is a 3D wide view with a 6 beam transducer.
---
R.C. Blue Box
R.C. blue box containing 3 motors with 3 gear boxes and a battery that will push the buttons on Cannon key pad for up to 5 years without recharging.
---
Floating ATV
This floating remote controlled TV transmitter is pulled by the DPV. A Diver's flag is mounted on the TV antenna. Video from the DPV is televised to the boat. Up to four camera views can be transmitted. A diver's GPS location can be seen and recorded. The float camera is also equipped with a microphone so the diver can talk to the boat.
---
Underwater Camera
These 3 custom made live video cameras are good to 300'. Drop cameras are held by the video cable. Center camera looks down. Both side cameras view at 45 degrees. Both side cameras can rotate 360 degrees. Every thing under the boat can be seen on screen by turning the video cable one full turn. Cameras also used on DPV, tow sled, ATV float, and hand held since 1996..
---
Twin Lights
Twin lights.(used for cave diving) That are mounted on top of 5 video cameras. This custom made live video package can be pulled by my boat at night or on deeper wrecks.
---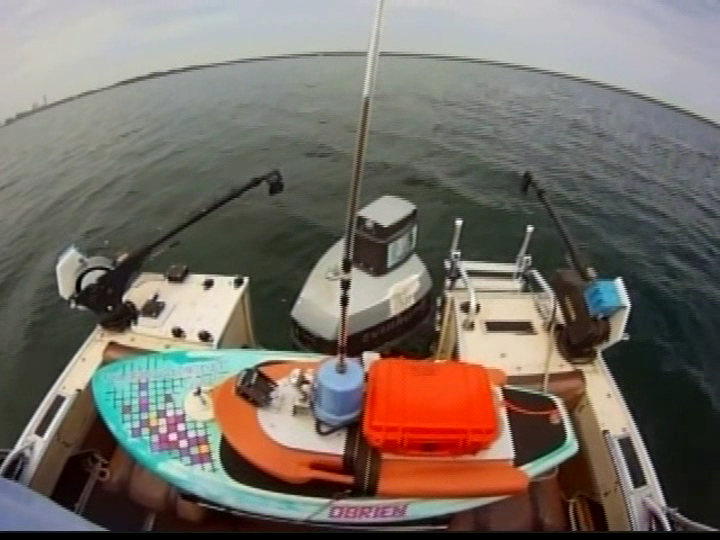 Remote Controlled Video Transmitter
Watching remote controlled live video from several submerged cameras since 1996. Cameras can be 300' below the surface and 1 mile from the boat.